Accidental encounters with the sea urchin in Puerto Vallarta are very common and leave painful and annoying wounds that require quick attention to promptly improve symptoms. In the next article we will quickly review what to do when you have a meeting with these friends of the sea.
What is a sea urchin?
Sea urchins are related echinoderms with Marine stars and sea cucumbers. Sea urchins acquire their name thanks to the calcium carbonate spines that cover their body, which are long and pointed, able to cross the skin, shoe soles and wetsuits. There are very few poisonous species and in Puerto Vallarta we do not have any of them however all sea urchins have glands that secrete toxins that are the cause of intense pain when an injury occurs.
Sea Urchin lesion diagnosis
Clinical features of a sea urchin wound include inflammation, redness and bleeding from the different puncture sites of the thorns in addition to moderate to severe pain in the area. After approximately 24 hours, if the spines are not removed, a discoloration of the skin will be observed around the wounds, showing the presence of the spine.
Sea urchin sting Treatment
Since the main symptom in this type of injury is the pain will be the primary thing to treat and the first step is to immerse the affected area in hot water (40 °-45 °c) for approximately 90 minutes, this for the purpose of denaturing the proteins of the Toxins that cause pain. Together the pain can be treated with analgesics such as ketorolac, ibuprofen or paracetamol and in cases of severe pain with analgesics opioids (eg. Morphine
Chemotherapy has been shown to reduce the incidence rate of infections in the case of deep penetrating wounds, so it is necessary to initiate treatment that covers common pathogens and pathogens found in seawater.
Finally we have the removal of the thorns which must be removed as a whole if possible and especially the largest. Fragmented, very small or very difficult to remove spines can be left to be reabsorbed or naturally expelled by the body. If any spine lodged in the skin presents complications after a week of the incident, it should be surgically removed.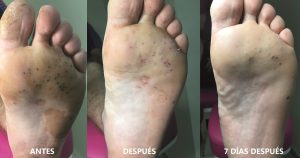 Remember that whenever you have an encounter with this or any other marine creature that causes an injury you must use a doctor to assess your injury and receive proper treatment and at doctor at Home PV you will always find a physician who can assist you in Any time of the day.
Source: uptodate.com